Birth name: Travis Landon Barker
Born: November 14, 1975 Fontana, CA USA
Genres: Pop, punk, rap rock, hip hop, alternative rock, ska, skate punk, punk rock
Occupation: Musician, producer, songwriter
Instruments: Drums, percussion
Years Active: 1993-present
Labels: DGC, Interscope, LaSalle, Atlantic, Geffen, Hellcat, MCA, Golden Voice Records, Goliath Artists
Associated Acts: Blink-182, Antemasque, +44, The Game, Box Car Racer, Yelawolf Lil Wayne, Transplants, Paul Wall, TRV$DJAM, The Aquabats, Expensive Taste, Steve Aoki, Goldfinger
Influences:
On the Web: TravisBarker.com
Highlights
Travis is best best known as the drummer for the rock band Blink-182 and, due to his fame, Rolling Stone Magazine referred to him as "punk's first superstar drummer."
Early Career and Fame
Travis began his drumming career working with the ska punk group The Aquabats. After recording an album with them and touring nationwide with the San Diego based Blink-182, Travis was asked to fill in for departing Blink-182 drummer Scott Raynor. Travis continued to play with them through 1998 and recorded his first Blink-182 album, Enema of the State, released in June 1999. That album brought immediate stardom to the trio, who became the biggest pop punk band of the era. Three singles released from the album crossed over into the Top 40 radio format resulting in major mainstream commercial success.
Travis in Retail
With the money afforded by his new form fame, Travis branched out into retail an founded founded clothing company Famous Stars and Straps in 1999 and LaSalle Records in 2004.
In 2004, Travis injured his foot at a Melbourne, Australia show in 2004 but performed the next night using his left foot for the kick-drum. But, he was in so much pain that the tour had to be cancelled. The doctor informed Travis that not only did he break his foot, but he tore tendons and ligaments, which are usually the type of injury people get in motorcycle accidents. In the meantime, Travis purchased a Wahoo's Fish Taco franchise in Norco, California, and began work on a new record with rap/rock group he first recorded with in 2002 called the Transplants. The year 2004 ended for Blink-182 with a European tour that was soured by division in the band. In February 2005, the band issued a press statement announcing their "indefinite hiatus."
Reality TV Star and Collaborations 2005-2008
After a Nightmare Before Christmas-inspired wedding in October 2004, Travis starred in the MTV reality series Meet the Barkers with Shanna Moakler. The series followed him and his new family through his daily life, including Blink-182's final tour and the new Transplants album. Meanwhile, Travis and Blink-182 band mate Mark Hoppus continued recording music together and began working on electronic demos, which they called +44. Travis began another new project in 2005 called Expensive Taste, featuring Paul Wall and Skinhead Rob—the project would be more traditionally hip-hop. He also turned his direction to producing, working with artists such as Bun Band T.I. The +44 project came to a turning point when Hoppus and Barker purchased their own studio in October 2005, named Opra Music. When Your Heart Stops Beating, the debut of +44, was greeted by less-than-stellar reviews and little commercial success.
Travis filed for divorce from Moakler that August; both used their MySpace blogs to comment on the situation. Their breakup and the drama surrounding it made them tabloid favorites. After he and Moakler split up in 2006, he was frequently spotted at nightclubs. According to Barker, he was trying to blot out the guilt of giving his children a broken home, and consumed "excessive amounts" of prescription painkillers, marijuana and alcohol. The painkiller usage eventually developed into a full-fledged addiction over 2007. Travis broke his arm during a video shoot for +44, but continued to tour performing with one arm. In early 2007, Barker began to work on hip-hop remixes and production techniques for many artists, preparing some loops and beats for Juelz Santana and looking to open two new boutiques, one in Los Angeles name Fast Life and one in Venice Beach by the name of Rogue Status. He also kept busy drumming for Idiot Pilot ("Elephant") and the Federation ("Black Roses"), as well as creating well-received remixes of Rihanna's "Umbrella" and "Crank That (Soulja Boy)".[46] After a stint on the Honda Civic Tour with Fall Out Boy and Cobra Starship, +44 began work on a second studio album that October.
Travis continued releasing hip-hop remixes in 2008; a well-received remix of Flo Rida's "Low" followed the "Crank That" rendition. The videos of Him playing the revamped tracks became popular on YouTube. Travis hoped to collate his growing arsenal of remixes with a bunch of new tracks on which he was working. It began to germinate into the idea of making a solo album, producing it all himself. He began performing with DJ AM (Adam Goldstein) in June 2008 in a collaboration called TRV$DJAM. Essentially, DJ AM would mix a set of classic songs (which ranged from classic rock to dance) live with two turntables, then Barker would "enhance AM's groove" with live drums. The duo performed at the MTV Video Music Awards on September 7. "Our little duo of drummer and DJ [had] reached heights we never thought were possible," said Barker in a 2011 Rolling Stone Magazine interview.
2008 Plane Crash
On September 19, 2008, TRV$DJAM performed at an event with Jane's Addiction singer Perry Farrell, and Gavin DeGraw in Columbia, South Carolina. The trip was a special occasion: "We all thought it was kind of a treat — we were on a private plane," Travis said. He had invited his ex-wife Moakler, but she declined, saying she had a weird feeling about leaving their children. With a vacant seat, Travis invited his security guard Che Still, figuring he'd be good company and would enjoy the trip. Travis was always afraid to fly; in his teenage years, he was "sure" he would die in a plane crash. When Blink-182 were putting together artwork for Take Off Your Pants and Jacket in 2001, they created a "Zoso-like" icon for each band member: a jacket, a pair of pants and an airplane. "Please don't give me the plane — I have a really f***ed-up fear of flying," Barker begged, but he ended up with the plane anyway.
Just before midnight, the plane, headed for Van Nuys, California, was racing down the runway when the occupants heard a loud bang. According to the Federal Aviation Administration, the plane was departing the airport when air traffic controllers saw sparks emanating from the plane. The pilots told the control tower that a tire had blown out and they would be aborting the take-off. Instead, the plane hurtled through the airport's fence, across a highway and crashed into an embankment. "When everything stopped, I tried to get everyone I could," Travis remembered. He and Goldstein escaped the plane and ran in circles on the highway. Hearing others yell, "Stop, drop and roll," Barker dropped to the ground and Goldstein helped him put out the fire on his feet. "I was lying next to AM as the plane was exploding, and I was screaming, 'Are we alive?'" Barker and DJ AM were transported to the Joseph M. Still Burn Center in Augusta, Georgia, where they were both listed in critical condition. They were the only survivors of the crash; personal assistant Chris Baker and Che Still, along with the two pilots, had died in the crash. Less than a year later, Goldstein died from an overdose.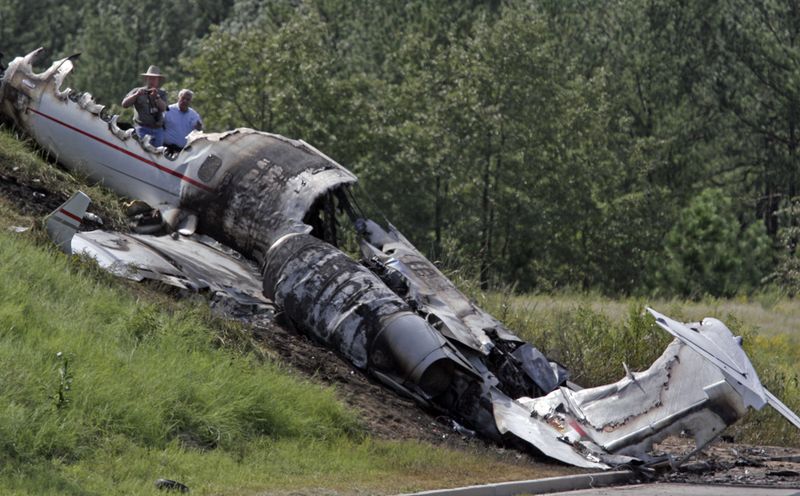 Travis spent more than 11 weeks in hospitals and burn centers. He had 16 surgeries: blood transfusions that lasted 4–8 hours and numerous skin grafts. "There were times when they were talking about amputating my foot because I didn't have enough skin on my body for my grafts," he said. He also developed post-traumatic stress disorder, made worse by the intense guilt he felt knowing Still wasn't supposed to be on the plane. He stopped his vegetarian diet and began eating meat to increase his protein intake and possibly speed up healing of his burns. Barker recovered from the incident, enabling him to return to the recording studio in November 2008. On his first television interview since the crash, he said to MTV, "I'm already playing my drums again, and I'm already back in the studio". He elaborated by stating that the return to the studio "was like riding a bike. It was really exciting to know I still have my chops. It still felt good… I still can make it around the kit. Everything felt right, so I'm thankful to be able to play. Barker sued the plane's owners, Goodyear Tire and Rubber Co., and an airplane maintenance company that month; the court case was settled in December 2009 and the terms of the settlement are confidential.
Solo Album and Reunions
Barker's accident led to a Blink-182 reunion, with the group announcing their return at the February 2009 Grammy Awards. Travis continued to produce remixes throughout 2009, including a remix of "3 a.m." by Eminem; he also collaborated with ex-Guns N' Roses guitarist Slash. In the midst of the band's reunion tour in August 2009, DJ AM was found dead by a friend in his New York apartment. Though Goldstein had been prescribed medication for pain following the crash, the medical examiner reported that he died from "acute intoxication" listing several prescription drugs and cocaine.
The plane crash led Barker to make some lifestyle changes; he began running and swimming each day, and went vegan since leaving the hospital, although he had already been vegetarian for 17 years. He has also overcome a painkiller addiction he had for years prior to the plane crash. "I didn't even take any pain medication after I got out of the hospital. They told me I'd be on some of the medicine for the rest of my life, but I got off all of them," said Barker. "They made me a completely different person." Barker hasn't flown since the accident, so he travels by himself on his bus — and takes a boat when touring Europe.
After more than two years of setbacks and delays, Travis finally released his long-in-the-works solo debut, Give the Drummer Some, in March 2011. The record features collaborations with artists from Lil Wayne to Slipknot's Corey Taylor. Neighborhoods, Blink's sixth studio album, was released in September 2011 and peaked at number two on the Billboard 200. Travis continued his collaborations, working with Chester French, LL Cool J, Cypress Hill and producing an entire EP of collaboration, Psycho White, with rapper Yelawolf. Travis was unable to attend Blink-182's Australian tour in 2013; Brooks Wackerman (Bad Religion, Tenacious D) filled in for him.
In 2015, Travis released a memoir, Can I Say: Living Large, Cheating Death, and Drums, Drums, Drums. He is currently working on his second solo album.